Construction home loans are readily available!
Construction loans encompass the construction of a dwelling on a block of land. Many people are unaware that this type of loan is available within most financial institutions. Some lenders refer to construction loans as building loans, or even construction mortgages. Many lenders also give these types of mortgages a particular brand name known to the particular lender's brand.
No matter what they are called, at the end of the day they are loans to construct a property.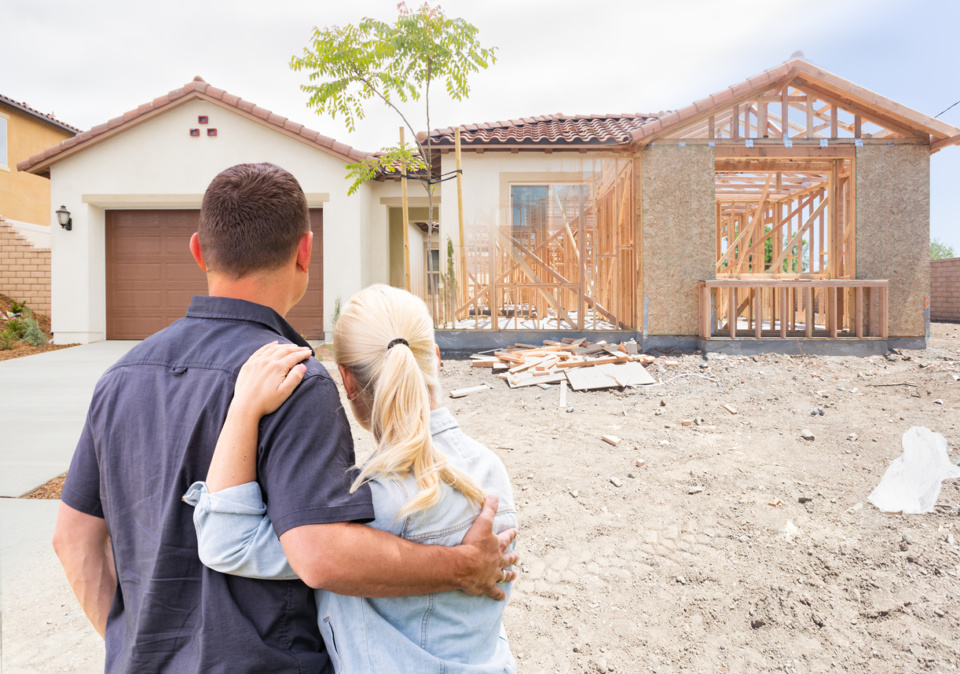 What types of loans are available for a construction loan?
There are many different loan types available for construction loans. Hence you can obtain many different loan products when seeking a construction loan. These include:

It does come as a surprise to many when we inform them that you could get a construction loan using any of the above loan types to build a property.
Construction Home Loans Faq's
Whilst construction home loans may seem daunting, it really doesn't have to be. With the right planning and advice, you can reduce confusion and apprehension about undertaking the construction process! Here we address some commonly asked questions we receive from our clients.
Are Construction Loans More Expensive?

Not necessarily! Construction loans are not as expensive as some people may think. On the contrary, you could get a building loan at standard home loan interest rates. Further you could get home loan rates discounted like a standard type of property loan.
Do Construction Loans Attract More Bank Fees?
A few lenders charge a construction loan fee, however there are some that do not.
Construction Loan products are not as common as other loans, therefore they are often not as competitively priced compared to other loans.
There are a few lenders who have dedicated construction loan teams. These lenders can price constructions loans the same way they price normal loans with all the extra loan features at no extra charge. These lenders are obviously the preferred choice when seeking a construction loan or a building loan.
What is the maximum LVR you can borrow with a construction loan?
The maximum LVR made available for a construction loan is 97% LVR. There are only a small handful of lenders that lend to this maximum LVR.
Different building approaches carry different LVR brackets. For example, if you were to take out a loan using a licensed builder the maximum LVR would be 97%. If you wanted an owner builder loan, the maximum you could borrow is 80% LVR.
Can I obtain a construction loan using a low doc policy?
Yes, construction loans are available using a low doc policy.
The maximum LVR for a low doc construction loan will decrease if you utilise a low doc policy.
For Example, you could borrow using a low doc policy for a construction up to $2,500,000. Some lenders will go as high as offering low doc construction loans to 85% LVR for a licensed builder loan up to $400,000. There are other lenders who will lend up to low doc 70 without the need for LMI.
There are many different low doc building loan options and we suggest you give us a call to see where and which policy suits you best as you will not find every aspect that might define your own position strictly reading this web page.
Are Constructions Loans available for applicants with Bad Credit?

There are a small number of lenders who lend to a borrower with a bad credit home loan. It must be mentioned though, these types of lenders will charge a slightly higher rate due to the bad credit history of the borrower.
I am a First Home Buyer, can I apply for a Construction Loan?

Yes! Construction loans are available for a first home buyer for up to 97% LVR. It is important to consider the lender most suitable for a construction loan as a first home buyer usually has a smaller deposit. You will also need to consider the cost the lenders mortgage insurance or LMI.
Can I get a construction loan if I was on probation?

You can get your loan approved even if you were on probation using aprobation home loan. These loans are only available with very few lenders, so it is important to be guided by a professional to choose the best lender for your unique scenario.
Useful Links
How does a construction loan work?
A construction loan involves the financing of payments to construct a property. Construction loans can be fiddly, but if lodged with the correct lender and with correct documentation, the transition is very easy. In many respects when people seek a construction loan they usually involve a licensed builder. Hence a potential borrower would need to provide the lender with a fixed price building cost estimate or fixed price tender or builder's quote. A fixed price tender or quote from a licensed builder usually breaks up the cost to construct into a 5-part progress payment schedule.
For more information visit Construction Home Loans Useful Info page or call us on 1300 656 600. Alternatively, send us an online enquiry and we will contact you!